Finding the best backpack for deer hunting can be challenging as there are a number of brands and styles to choose from. In addition to this, you sometimes never realize what you need in a good hunting backpack until you're actually in the field. 
AKEK is quickly gaining a reputation for delivering the best deer hunting packs in the outdoor industry. The reasons why hunters are making the switch to AKEK is very simple – we wanted to create best deer hunting pack we possibly could, based on decades of hunting experience, quality materials and serious comfort.
Keep reading to learn what makes AKEK products the best deer hunting packs on the market.
We Recommend One Of These 2 Packs Below For Dear Hunting
Alpha 3200 For 1-2 Days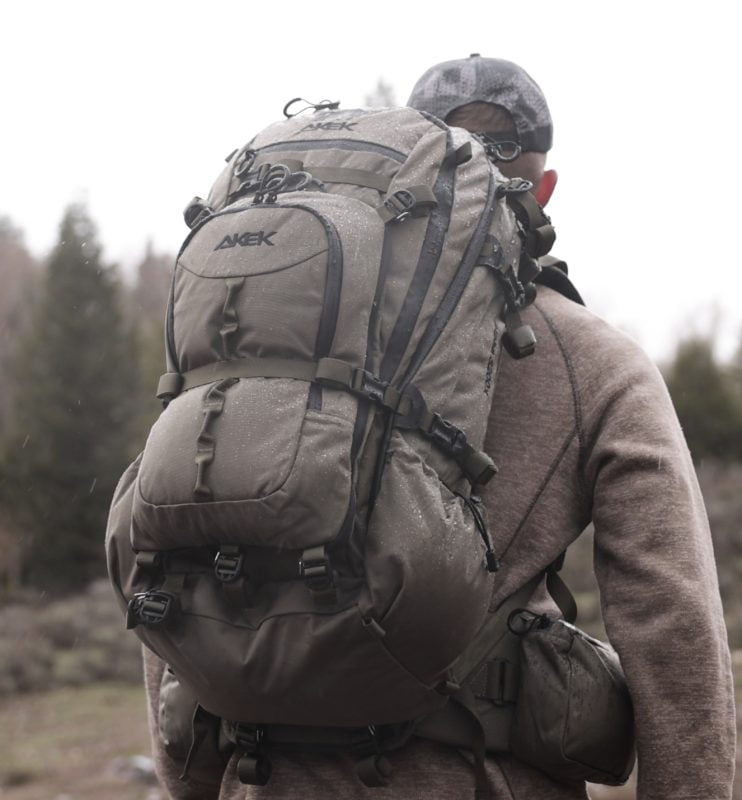 CLIMAX 5400 For Multiple Days
Watch The Short Video Featuring The Alpha 3200!
Watch The Short Video Featuring This Climax 5400 Pack!
The Purpose of a Deer Hunting Pack
If you're somewhat new to deer hunting, or even if you're a seasoned expert, it can be tough to determine exactly what you need in a good hunting pack to use on your trips. Packs that are intended to be used for upland bird hunting will often be drastically different than those used for deer hunting, or going after other types of big game animals. In many cases, hunters are going to be trekking many miles into the wilderness in search of a trophy buck that you simply won't find elsewhere.
A deer hunter must be strategic in what he brings with him on a multi-day hunt, or even a day-trip, as the goal is to bring back your harvested deer, along with the rest of your gear. If you're going to give yourself the best possible opportunity, you'll have to bring a variety of different gear items. On a multi-day hunt, you will be required to tote all of your food and water, as well as clothing and other items to sustain you throughout the trip. In too many cases, a poorly-designed backpack will result in an agonizing journey with hours of discomfort caused by lugging an unbalanced pack across rugged terrain.
Our goal at AKEK was to create a backpack that would perform better than any other product in the industry. We wanted to make a pack that deer hunters would be able to use on those long, multi-day hunts, as well as a quick morning or evening trip. Our team of experts have decades of hunting experience and used that knowledge to create a pack that was lightweight and comfortable, without sacrificing performance and load-bearing capacity. We developed the Alpha 3200 and the Climax 5400, each specially designed to function as the best deer hunting packs for long and short trips.
Versatility
When it comes to deer hunting, where adaptability is key, AKEK backpacks stand out as the epitome of versatility, offering a range of features that cater to the diverse needs and preferences of hunters. From the dense forests of the Midwest to the open fields of the Southwest, AKEK backpacks prove to be the ideal companion for deer hunters seeking gear that can seamlessly transition between various hunting styles and environments.
Modular Attachment Points for Customization
AKEK backpacks are designed with the understanding that no two hunting expeditions are the same. With modular attachment points strategically placed on the backpacks, hunters can customize their gear setups to suit their specific needs. Whether it's attaching a rifle scabbard for hands-free carrying or adding pouches for extra ammunition, the modular design of AKEK backpacks ensures adaptability for different hunting scenarios. This feature allows hunters to transition effortlessly from hiking into basecamp with a full week's supplies to stalking through dense underbrush, all without compromising on the accessibility of their essential gear.
The AKEK Alpha 3200 and Climax 5400 are made with numerous attachment points and quick-release latches that allow users to fully customize their pack based on their own needs and preferences. Hunters can also quickly and quietly remove the small pack on the Alpha 3200, which is ideal for stalking scenarios as it features shoulder straps and ample storage for essential gear items. 
Organized Efficiency
Deer hunting often involves carrying a variety of gear, from optics and rangefinders to calls and first aid kits. AKEK backpacks boast a thoughtful layout of compartments, each designed with a specific purpose in mind. This compartmentalization not only ensures that every piece of equipment has its designated space but also allows for efficient organization. Hunters can quickly and easily access the tools they need without rummaging through a cluttered backpack, making it ideal for situations that require swift and discreet retrieval of gear.
The Alpha 3200 features seven zippered compartments and two side elastic snap compartments that keep your gear organized and at-the-ready. The pack also offers an ammo holder on the inside front pocket and a removable mini-pack with shoulder straps for stalking game.
The Climax 5400 is more robust, featuring top and front openings for easy loading and unloading. The pack also offers four accessory pockets with internal or external connecting points to allow each hunter to choose where it makes sense to add items for optimal mobility and ease. The Climax 5400 features lots of built-in easy access, inner and outer pockets that streamline organization and storage for deer hunters, as well as a removable lid which serves as a compact stalking pack with shoulder straps.
One Pack, Three Modes of Use
The Climax 5400 is one of the best versatile deer hunting packs on the market today thanks to its distinct design. It is described as three packs in one as it offers Climax Mode, Regular Mode and Compact Mode. These three different modes allow hunters to customize their pack in the field by simply releasing a few latches.
Compact Mode
The Climax 5400 can be used in Compact Mode by unlatching the main compartment and using the compact lid along with the frame and straps. This mode is perfect for stalking game and packing meat back to camp as it allows you to utilize the frame's structure to fasten the load.
Regular Mode
The Regular Mode allows users to carry enough gear for a multi-day hunt, yet the removable lid is not included for a smaller, more manageable pack. Hunters can choose whether or not they want to include the extra accessory pockets, or remove them for a lighter load.
Climax Mode
In Climax Mode, the internal foldout extends the pack upward, allowing users to carry more gear without compromising their pack's balance. This mode is ideal for long, multi-day hunts that require lots of gear and supplies.
Storage Capacity
A quality deer hunting pack should have enough storage for the entire duration of your hunt. For those who hunt public land and venture far into the wilderness, away from roads and trails, having a backpack with generous storage is essential. This is especially true for multi-day hunts, but the AKEK Alpha 3200 and Climax 5400 are capable of being used for deer hunts of any length of time.
Alpha 3200
The Alpha 3200 derives part of its namesake from the 3,200 cubic inches of space the pack's interior offers. This amount of storage is usually considered to be optimal for the average multi-day hunt that is less than five to seven days. Users will find plenty of different zippered compartments where they can store items and two separate water bladder storage pockets to ensure that hunters stay hydrated in the field.
The Alpha 3200 is perfect for long, multi-day hunts, or can be used on a simple day hunt as users can easily unlatch the removable pack and use it to store the items needed. Whether you're hiking several miles into the wilderness, or just toting a few crucial gear items to your favorite treestand, the Alpha 3200 delivers the necessary space for each situation.
Climax 5400
The Climax 5400 delivers 5,400 cubic inches of internal space, making it ideal for the more hardcore hunters who venture into the wild for weeks at a time. This pack features numerous zippered compartments and latch-points hunters can use to dial in the exact load, fit and feel of their pack. The Climax 5400 has four water bladder compartments for ultimate hydration capacity.
Hunters can use the Climax 5400 for long or short hunts much like the Alpha 3200. The pack can be extended into Climax Mode to enable deer hunters to load more gear for a long journey. It can also be used in Compact Mode for a short day hunt or stalking, or hunters can opt to simply use the removable lid as their lightweight pack for a short trip.
Comfort
AKEK backpacks were specially designed to offer unmatched comfort for hunters to carry loads weighing up to 150 pounds. Many hunters don't consider how well their backpack fits or feels with a heavy load until they attempt to pack out a harvested buck. Hunters shouldn't compromise on comfort to go with a more affordable pack as this will only make their treks into rugged terrain more difficult.
AKEK places a strong emphasis on ergonomic design and user comfort in their backpacks. The Alpha 3200 and Climax 5400 backpacks feature padded shoulder straps and a cushioned back panel, distributing the weight evenly across the hunter's back and shoulders. This design minimizes fatigue during extended treks, allowing hunters to stay focused and alert throughout their expedition.
We understand that hunters come in various shapes and sizes. Our packs are made with straps that can be adjusted in four directions to ensure a customized and secure fit. This not only enhances comfort but also prevents the backpack from shifting or bouncing during rapid movements, providing hunters with the stability they need in the field.
Each pack features a padded waist belt that helps to adequately disperse the weight when carrying a heavy load, making it much easier for hunters to negotiate difficult terrain. Having your pack properly secured with shoulder straps and waist belt tightened also helps to prevent injury as hunters will be much less likely to stumble or fall due to an unbalanced load that can shift as they move.
In addition to this, each AKEK pack's frame features a curved design which allows air to flow between a hunter's back and their pack. This is the main area where our bodies accumulate heat as we move due to the backpack's movement and friction with each step we take. This small, but important feature helps to cut down on the user's fatigue level and also prevents sweating as well.
Stealth in the Field
One thing deer hunters value is stealth in the field and the ability to remain undetected as they inch closer to their target. Deer have an incredibly adept sense of hearing and are easily spooked by the smallest noise that sounds unnatural–especially a backpack's fabric scrubbing against a tree branch or brush. Many deer hunters are aware of just how loud the fabric on a cheap backpack can be and stalking through dense underbrush with such gear is out-of-the-question if you want to be successful.
AKEK's products are considered the best deer hunting packs in part because of their stealth and silent operation. Each pack is made from tough 500 denier Cordura nylon that's coated with durable water resistant (DWR) material which allows water to bead-up and run off of the pack instead of seeping into it and adding extra weight while soaking your expensive gear. The pack's external material is virtually silent when moving through brush, but the pack's zippered compartments are also made with noiseless YKK zippers which can be used without alerting game animals to your presence.
Weapon Carry System
Every deer hunter knows that a trophy buck could emerge from the forest at just about any moment when they are in the field. It's critical to have a backpack that won't impede your success when the time comes to take the shot. AKEK packs are specially designed to allow quick and easy access to your rifle or bow using the Quick-Release Strap.
This system is engaged when the hunter pulls the strap forward, releasing tension on their weapon. It is designed in such a way that hunters can seamlessly grab hold of their rifle or bow, pull the strap and position themselves for a shot within seconds–all without having to remove the backpack itself. This Quick-Release Strap works with rifles or bows and can be positioned on either side of the pack depending on the hunter's preference.
AKEK backpacks make it possible to be ready to take the shot without hesitation, and without having to remove the pack. This, along with all of the other characteristics we've mentioned are a few of the reasons why our products are being considered as the top deer hunting packs in today's industry.