Elk hunting is often considered to be among the most challenging and rewarding among big game species. Very often, hunters will trek for days into the wilderness in search of a trophy bull and they must carry everything they need for that time period in their backpack. Regardless of how far you're traveling, you'll need a backpack that will meet the challenges you face and be as adaptable as possible in the field.
Choosing a good elk hunting backpack involves identifying some key features and capabilities you want in your backpack. In this article, we'll explain the main things you need to look for when searching for an elk hunting pack, and how AKEK products not only meet, but exceed the expectations many hunters place on their backpacks.
We Recommend One Of These 2 Packs Below For Elk Hunting
Alpha 3200 For 1-2 Days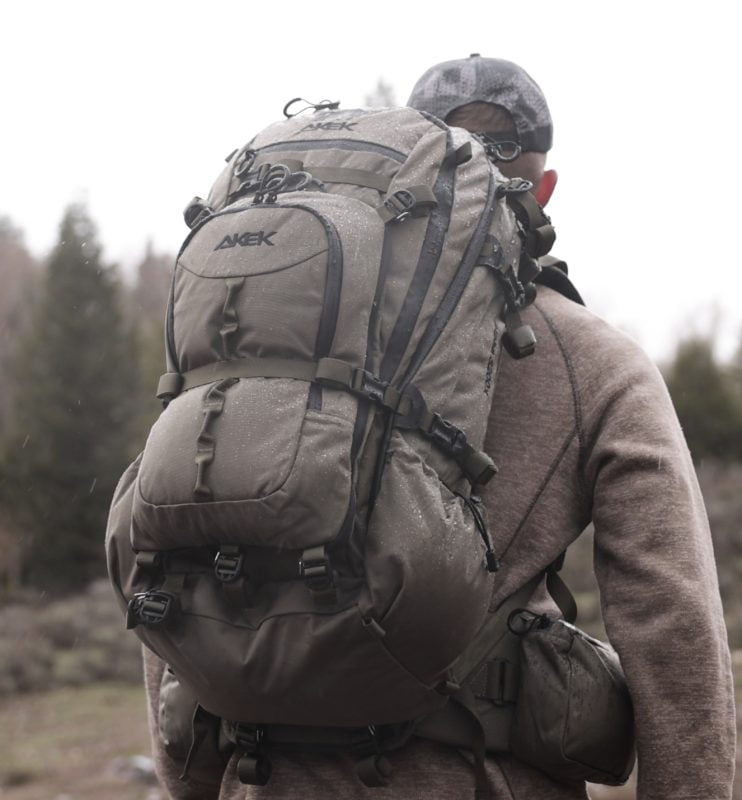 CLIMAX 5400 For Multiple Days
Watch The Short Video Featuring This Climax 5400 Pack!
Watch The Short Video Featuring The Alpha 3200!
Versatility
Any serious elk hunter knows that they will often have to hike at least a few hours or even days into the wild to reach the absolute best elk hunting areas. Unless you're going in on horseback, you're going to have to serve as your own pack mule, loading everything you need for your hunt on your back. A good elk hunting backpack should be fully capable of handling a hefty load of hunting gear and supplies for a multi-day hunt. However, there are few packs out there that can do this and also serve as a lightweight, compact day pack for the actual hunt.
AKEK's Alpha 3200 and Climax 5400 are specially designed to function as both a multi-day elk hunting backpack, as well as a light pack that you can wear leaving basecamp and trekking to the actual hunting site. AKEK's design experts are lifetime hunters who have worked to develop the perfect elk hunting backpack that can be adjusted with a few easy changes to function as both a heavy and light pack.
What truly sets the AKEK Climax 5400 apart is its ability to adapt to various hunting scenarios. The Climax features adjustable straps and carbon-fiber frame allowing for a personalized fit that ensures each hunter will be able to enjoy optimal comfort, even on extended treks. The backpack also features a dedicated Quick-Release Strap system that allows you to secure your rifle or bow with ease for quick access, which is vital when it comes to a successful elk hunt.
Capacity and Compartmentalization
One of the main things hunters should consider when choosing an elk hunting backpack is its capacity. Elk hunting often involves multi-day trips, and you need a backpack that can carry all the necessary gear, clothing, food and more. Many backpacks vary with capacity depending on the length of time a hunter plans to be in the field, but most experts agree that having about 5,000 cubic inches of space is considered to be ideal. Be sure to take an inventory of all your gear and how it might fit into a pack before you purchase it.
The AKEK Climax 5400 offers ample room for all your gear, clothing, food, and essentials, which makes it ideal for multi-day elk hunting trips. This pack features a wide range of compartments that have been strategically-positioned to ensure that you'll have easy and efficient organization or your gear. This helps to prevent hunters from wasting precious time rummaging through their pack looking for specific gear items.
Having a range of compartments is often overlooked, yet can be crucial to a successful hunt. A elk hunter must know exactly where certain gear items are stashed away and be able to access those items–sometimes at a moment's notice when opportunity presents itself. Look for a backpack with multiple pockets, compartments and attachment points to help you organize your gear effectively. Internal and external pockets can help you keep your essentials handy and separate, making it easier to access your gear without having to dig through the entire pack.
Durability and Construction
Elk hunting usually takes place across rough, unforgiving terrain. Hunters often have to move through dense underbrush, climb over rocks, and wade through ice-cold rivers and streams during their hunt. You need a backpack that can safely secure your gear and withstand these challenges. Elk hunters should look for a backpack that's made with durable, high-quality materials such as Cordura nylon or ripstop fabrics. These materials are resistant to tears and abrasions, which are common when navigating wilderness terrain where elk are found.
Cordura nylon and ripstop fabrics are the backbone of the AKEK Climax 5400 and the Alpha 3200. Additionally, the AKEK Climax 5400 features reinforced stitching at common stress points along with robust zippers to ensure that your pack remains intact even when facing the harshest conditions. This level of durability is a critical factor that sets the AKEK Climax 5400 apart from generic backpacks and makes it the best elk hunting backpack you'll find on the market today.
Weight and Frame
The weight of your elk hunting backpack is an important factor to consider, especially if you're going to be hunting for more than 5 days at a time. When you're carrying gear for extended periods, every ounce matters. Therefore, a lightweight pack can make a significant difference in your overall comfort and endurance levels, which can be the difference-maker between a miserable experience and an unforgettable adventure. However, it must be stated that you should be cautious not to compromise durability for the sake of saving weight. Balance is key.
A pack's weight and frame design are integral to a backpack's suitability for elk hunting. The AKEK Climax 5400 strikes a nice balance between being lightweight, yet sturdy. One of the key characteristics in Climax 5400 is the pack's versatility in frame design. The backpack can be adjusted to function with an internal or external frame, allowing you to choose which one you prefer based on the advantages.
An internal frame keeps your profile low, making it easy to maneuver through steep terrain. The external frame will feel a bit more bulky, but it offers superior load-bearing capacity and makes it possible to pack out a load of meat after a successful hunt. The choice ultimately depends on your personal preference and the specific terrain you'll be hunting in. Instead of an aluminum metal frame, AKEK backpacks are made with a carbon-fiber frame to provide exceptional strength without adding unnecessary weight.
Fit and Adjustability
The fit of your backpack is a critical factor in your overall hunting experience. An ill-fitting backpack can lead to discomfort, fatigue, and even injuries. Look for a pack that offers adjustable straps, including those for the waist belt, shoulder straps, and chest strap. These adjustments allow you to fine-tune the fit to your body, ensuring that the weight is distributed evenly and reducing the strain on your shoulders and back.
Before making a purchase, it's a good idea to visit a store that specializes in hunting gear and try on different backpacks. Walk around with them loaded to see how they feel. If you plan on wearing bulkier clothing during colder hunting seasons, make sure the backpack can accommodate those additional layers.
Carrying Weapons and Gear
Your backpack should be designed to carry your gun or bow safely and securely. Some backpacks don't feature a weapon carry system, but those that do present a major advantage over their counterparts. Being able to store your weapon and have your hands free for other actions is often a make-or-break feature that serious hunters look for in a good elk hunting backpack. Easy and quick access to your weapon is essential in hunting scenarios, so be sure that you have an understanding of just how soon you can access your gun or bow and take a shot when the weapon is fully secured on the pack. Both the Alpha 3200 and Climax 5400 and excellent bow hunting backpacks.
The AKEK Climax 5400 and the Alpha 3200 are in a class of their own when it comes to a dedicated weapon carry system. AKEK backpacks feature a Quick-Release Strap that allows hunters to release their weapon and position themselves for a shot without ever having to remove the pack itself. In some cases, depending on the type of gun or bow one is using, a hunter can access their weapon and take a shot in less than 20 seconds with AKEK's Quick-Release Strap. Having this ability is an essential element of elk hunting, where opportunities can be fleeting, and quick access to your weapon is paramount.
In addition to weapon carry, the Climax 5400 offers numerous attachment points for gear such as spotting scopes, tripods, rangefinders and more. MOLLE webbing further enhances the backpack's adaptability, allowing you to customize it to your specific gear needs.
Quiet Zippers and Fabric
Elk are known for their keen sense of hearing, and even the smallest noise can spook them. One of the most overlooked aspects of a good elk hunting backpack is an ability to function with near silence or as much stealth as possible. The best elk hunting backpacks will feature quiet zippers and fabric that won't create noise when contacting brush or rocks. Many hunters have spooked elk by simply opening a zippered compartment too quickly.
The AKEK Climax 5400 is crafted to function in virtual silence, incorporating stealth zippers and noiseless fabric. These features provide hunters with the confidence that they need to push through thick undergrowth and into areas where elk tend to take refuge.
AKEK backpacks feature a brushed, microfiber finish, which further minimizes noise while you navigate the woods. This stealth factor is a critical element of a successful hunt, and it's another reason why these are the best hunting backpack with frame for meat on the market today. 
Weather Resistance
When hunting for more than 3 days at a time, it's difficult to predict what the weather might be like when you're in the field. The best elk hunting backpacks are always going to be the ones that are built to withstand various weather conditions, including rain, snow or sleet. A waterproof or water-resistant backpack is crucial to ensuring your gear stays dry and is not damaged.
AKEK backpacks are crafted with durable water-repellent (DWR) coating fabric and a built-in rain cover to protect your gear from the elements in the heaviest storms. The Climax 5400 is capable of withstanding heavy rains and snow while keeping its contents inside dry and concealed from the external temperatures. This will allow you to go forward in the face of inclement weather instead of turning back and allowing nature to dictate the length of your hunting trip.
Comfort Features
Comfort is arguably the most important factor in choosing a good elk hunting backpack for many hunters. Knowing that you will likely be carrying upwards of 100 pounds of gear and/or meat means that features like padded shoulder straps, a cushioned waist belt and a curved, ventilated back panel can significantly enhance your comfort and make extra-long trips more bearable. Cushioning is incredibly important as it helps to distribute the pack's weight evenly, while proper ventilation prevents excessive sweating and further discomfort.
The AKEK Climax 5400 is designed to include various comfort features that are intended to enhance your overall hunting experience. The pack includes soft-padded shoulder straps and a cushioned waist belt, which helps distribute the weight more evenly to reduce the strain on your shoulders and back.
Both the AKEK Alpha 3200 and Climax 5400 are crafted with a curved back panel that allows air to pass through the middle-section of your back and manages to keep your back cool. Without this curved ventilation feature, your back would become much hotter as friction combines with body-heat to create greater potential for sweating, which is unacceptable in cold conditions where hypothermia can set in. The result is a cooler and more comfortable experience during those tough, physically demanding hunts.
The inclusion of padded hip belt pockets is an often-overlooked convenience that lets you access small essentials like a GPS device, snacks, rangefinder or other items. Additionally, the AKEK Climax 5400 comes with load lifters and load adjusters, allowing you to fine-tune the weight distribution as you hike.
Warranty
It's always tempting to go for the most affordable option, on any piece of gear. Comparing each of these key points on the AKEK Climax 5400 to other products makes it clear why this is the best elk hunting backpack in today's outdoor industry. Serious outdoorsmen and women know the long-term value of investing in a high-quality elk hunting backpack. A reliable backpack should last for many hunting seasons and provide better comfort and performance. This is why AKEK has backed each of its products with the AKEK Lifetime Warranty.
The AKEK Climax 5400 is not just a pack that will serve you for a few seasons before wearing out and falling apart. Instead, this pack is crafted in such a way that it will truly last the lifetime of even the toughest hunter.