Sometimes hunters need a pack that offers just enough comfort and capacity for a single day's hunt. Depending on how far you're willing to hike into the wild on a one-day hunt, you may or may not need to have a pack that features extra storage for things like food, clothing and other items you would typically need on a multi-day hunt. Hunters have long posed the question, "Wouldn't it be great to have a backpack that could function as both a multi-day, heavy-duty pack, as well as a compact, lightweight day pack?" 
AKEK backpacks are designed with that goal in mind. Keep reading to learn why avid hunters are calling the AKEK Alpha 3200 and Climax 5400 the best day hunting packs in the outdoor industry today.
Choosing the Best Hunting Day Pack 
We Recommend One Of These 2 Packs Below For Day Hunting
Alpha 3200 For 1-2 Days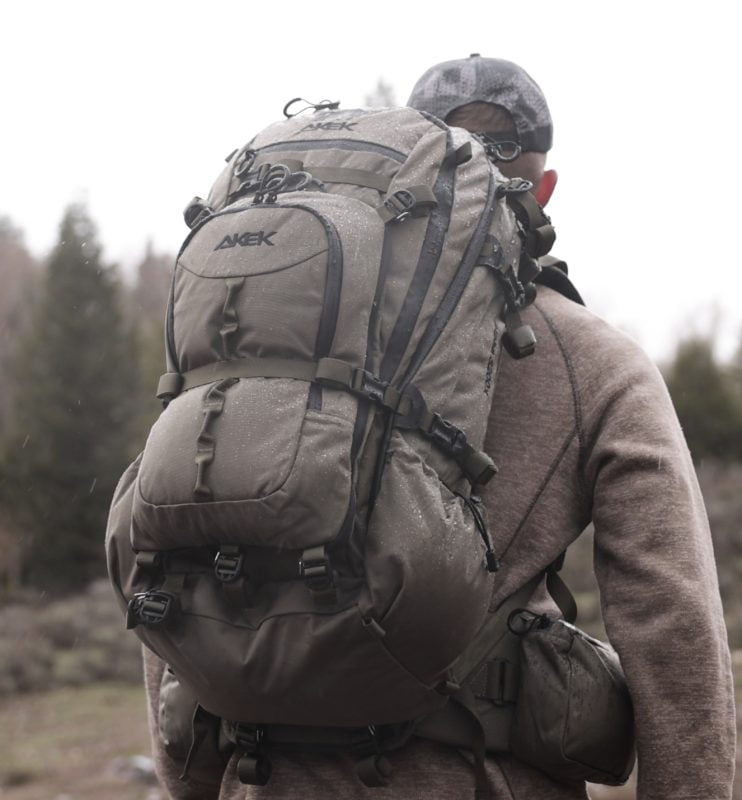 CLIMAX 5400 For Multiple Days
Watch The Short Video Featuring The Alpha 3200!
Watch The Short Video Featuring This Climax 5400 Pack!
Selecting the ideal hunting day pack requires hunters to have a solid understanding of the type of game animal they are going after, as well as an idea of how far they might need to hike to successfully harvest their target species. A good hunting day pack usually has at least 3,000 cubic inches of storage space to allow you to carry plenty of water, food and various hunting gear items, but you also don't want a pack that's going to be too large or heavy for a single day's journey. You'll want the Climax 5400 if you plan to do longer backcountry hunts.
Most hunters understand that a good hunting day pack will allow you to pack out as much meat as possible, as well as the animal's cape for those trophy bulls or bucks that you will want to hang on the wall. The best day packs for hunting are always going to have the perfect balance between offering plenty of capacity, yet not overloading hunters with too much weight.
AKEK product designers have worked countless hours conducting testing, research and a range of other efforts to create the perfect hunting day pack. Both the AKEK Alpha 3200 and the Climax 5400 were crafted to be a reimagined hunting backpack which functions in every type of hunting scenario.
What Should I Look for in a Good Hunting Day Pack?
Finding the best hunting day pack for your personal needs is not as difficult as it may appear. Some of the main things you should consider are factors that you will also want to seek in a good multi-day hunting backpack. Comfort is one of the main things hunters look for in any backpack, but many of the extra compartments and features play a much larger role than anything else. Build quality and performance are normally the most important aspects serious hunters look for in a quality hunting day pack.
In the following sections, we'll explain which factors to look for when selecting the best hunting day pack and what makes the AKEK Alpha 3200 and Climax 5400 the perfect backpack for day hunts.
Capacity
Having optimal capacity in your hunting day pack is typically the first thing hunters look for in their search for the right pack for their trip. The actual amount of space you'll need in a pack will vary depending on the type of game animal you're after, the terrain you're hunting in, how far you plan to hike and other factors.
Whitetail hunters might only need enough space to carry enough water, a few snacks and some small hunting gear items, yet hunters seeking larger game animal species know that capacity will be a more crucial aspect to their pack. If you plan to use your pack for Elk hunting you might go 5 or more miles through rough terrain to reach areas where bulls are most active. In any case, it's always best to have slightly more room than you think you'll need to allow easy packing and organization of your gear. 
The AKEK Alpha 3200 makes a clear case for being the best hunting day pack on the market today for a number of reasons. This pack offers 3200 cubic inches of space, which is ample storage for going after just about any type of big game animal with room to spare. One of the best things about the Alpha 3200 is the high level of organization it offers within the pack and outside the main compartments. Hunters will be able to make use of numerous pockets, pouches and zippered compartments of differing sizes that allow you to separate and store your gear in a way that ensures you'll know exactly where each item is while also being able to access that item at a moment's notice.
The AKEK Climax 5400 is similar to the Alpha 3200, yet it boasts even more space for extra goods, water and gear. What makes the Climax 5400 one of the best hunting day backpacks on the market today is the fact that it can be used in three different hunting or hiking modes. 
● Climax Mode: In Climax mode, an internal foldout significantly extends the pack's height and carrying capacity. This mode is perfect for multi-day adventures into the wilderness in which a hunter must bring along everything they need for their hunt.
● Regular Mode: In Regular mode, the pack functions as you might expect most high quality hunting backpacks that also feature a sturdy frame. This mode is also ideal for multi-day hunts that are less than 5 to 7 days in most cases.
● Compact Mode: In Compact mode, hunters can use the pack with its frame along with the backpack's removable lid is an agile extension that's perfect for short day hikes or stalking.
What makes the Climax 5400 one of the most revolutionary packs on the market today is the fact that it can function in any of these 3 modes throughout the course of a hunt. You can use the backpack in Climax mode to hike into your chosen hunting location with all your gear, food and other supplies needed for a serious multi-day hunt. Once you reach basecamp, you can then use the pack in Compact mode for trekking out from camp and hunting throughout the day. Then, once the hunt is over, you can either use the pack in Climax mode, or Regular mode, considering that you won't need to bring a hefty supply of food and similar items.
Comfort
Regardless of how long you plan to be in the field, you'll need to have a backpack that offers plenty of comfort. An cumbersome and unbalanced backpack will certainly result in an unpleasant hunting experience as the hike to and from your location will be much tougher than it should be. AKEK designs its backpacks to be incredibly comfortable, regardless of whether they are being used for a long, multi-day trip or simply a short day hunt.
Both the Alpha 3200 and the Climax 5400 are made with soft-padded shoulder straps that are much wider than most competitor products. The added padding helps hunters balance their backpack's gear load more evenly and the width of each strap only further assists in this balancing as the pressure users would typically feed is spread out across more surface area. Each backpack's straps are fully adjustable and it's very easy for hunters to tighten or loosen certain parts on-the-fly instead of having to remove the backpack and adjust the straps.
Each AKEK backpack also features a soft-padded waist belt that makes it much easier to handle heavy loads. The Climax 5400, when used in Compact Mode, still features the padded waist belt and frame to ensure that hunters will be able to quarter and pack out their animal's meat and cape with ease once they successfully harvest their target animal. These truly are the best hunting backpacks with frames.
Features and Adjustability
AKEK's Alpha 3200 and Climax 5400 are both crafted with more adjustability than any other hunting backpack on the market today. This means that hunters will be able to manipulate the pack in just the way they want to get the perfect fit and feel for their hunting trip. No hunting backpack is a one-size-fits-all and AKEK product designers understand the need to sometimes add and remove certain gear items and storage compartments depending on your own preference.
Each pack comes with two removable water bladders and multiple pockets for a standard 3 liter water bladder. The Alpha 3200 offers two pockets that specifically fit a standard 3L water bladder while the Climax 5400 features four of these same pockets for ultimate hydration. These backpacks also feature a removable small pack that has shoulder straps and can function as a simple, compact removable storage pack that can be removed in less than one minute.
All of the external pouches and compartments are connected to the backpacks using a system of latches that are specifically designed to give users the ability to adjust their pack as-needed. These latched compartments can be removed or relocated to various parts of the backpack in such a way that makes AKEK backpacks the most easily customizable packs in the industry.
Build Quality
A quality hunting day pack should be an investment that will last for many seasons to come. Both the Alpha 3200 and the Climax 5400 are crafted from the finest quality materials and designed to withstand just about anything nature throws at you in the wild.
Each pack is made with 500 denier Cordura fabric that is rip and tear resistant, making the fabric of these backpacks virtually indestructible. You won't have to worry about having to stitch or repair the pack when moving through thick underbrush and thorns. In addition to this material's strength, each part of the backpack fabric is coated with durable water repellent (DWR) coating that prevents water from seeping into the fabric and getting the interior contents wet.
In addition to this, each zippered compartment is made with tough, fully-sealed YKK zippers. These zippers are specially designed for hunting as they are capable of being opened or closed without the typical noise you would expect in more cheaply-made zippers. These YKK zippers are also designed to seal out wetness and dust to make sure the contents inside your backpack remain secure and untouched by the elements.
Weapon Storage
Serious hunters know that it's not feasible to tote your rifle or bow in your hands 100 percent of the time when you're on a hunt. The best hunting day pack will be one that allows hunters to store their weapon on their pack securely, yet still be able to access their gun or bow and take a shot when the opportunity presents itself. Very few hunting day packs are capable of delivering on this characteristic, but the Alpha 3200 is one that features the best weapon storage system of any hunting day pack. This is a great bow hunting pack!
AKEK's Quick-Release Strap allows hunters to easily release their rifle or bow and position themselves for a shot within seconds without ever having to remove the backpack at all. The strap operates using a forward-pull latch that releases its hold on the weapon when pulled. Unlike most other hunting day packs that may or may not feature a weapon carry system, this Quick-Release Strap makes it possible to release and shoulder your weapon in just a few seconds.
This feature greatly enhances your overall ability as a hunter. Instead of having to handle your weapon at all times while walking or stalking your game animal, you can now have the confidence that you'll be able to access your rifle or bow and take the shot when the time comes. The AKEK weapon carry system secures your rifle or bow closely to the pack to ensure that your backpack's load will remain as balanced as possible.